Delivery reliability and partnership were the deciding factors for choosing the supplier
After a careful planning phase and meetings with several suppliers, a decision was made to order the structure from Best-Hall. The client was convinced by Best-Hall's reliable deliveries and services. The company having its own factory and being involved in the project as a whole were key criteria for the decision.
"We familiarised ourselves with the Best-Hall structure in Honningsvåg, Nordkapp, where there have been similar challenges with the weather. The experiences had been good. It was also important to us that Best-Hall was closely involved in the project from planning to commissioning," Olsen says.
The installation was completed in 2018. Now, the structure, which is 187 metres long and 73 metres wide, provides figure skaters, speed skaters, hockey players, bandy players and many others with a place to practice. The structure boasting 10,000 square metres also includes a separate area for curling. The large open area is convenient for sports enthusiasts who are not involved in club activities and competitive sports.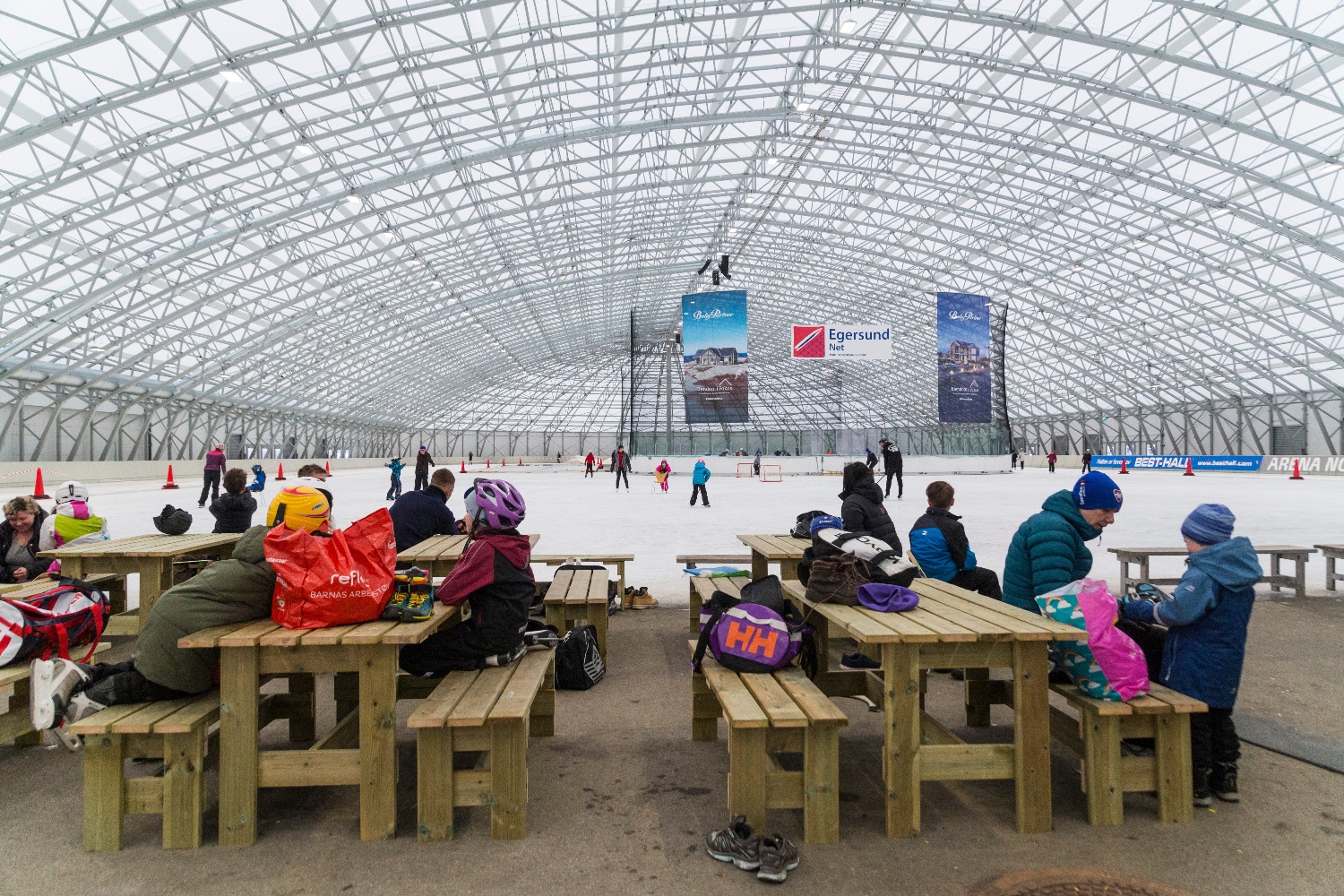 Praise for the ice quality
Arena Nordvest's vast PVC fabric cover is translucent and lets daylight through. The structure protects skaters from rain, snow and wind, and the ice from rainfall and the spring sun.
"The Arena structure in Kristiansund is uninsulated. The translucent white cover reflects the heat of the sun, which helps keep the interior cool. The building was designed to extend the winter season and, during the summer, it is used for other purposes," says Best-Hall's Sales Director Leif Fagernäs.
The ice is used from early autumn to the end of April. The covering structure ensures that the ice stays in excellent condition, which has garnered a great deal of praise from users. The automatic dehumidification system that manages humidity has worked wonderfully well.
"The entire structure and all interior details have been carefully considered. This ensures that the end users are served in the best possible way," Fagernäs says.
Arena for cultural events
The structure is also an excellent venue for cultural and other events: in the summer, the event arena boasts 12,500 square metres of space, which enables large festivals and concerts, for example.
"The size and structure of the building make it possible to put together a variety of events, since it is easy to drive inside and install the equipment, stages and lighting required," Fagernäs says.
The versatility of the structure has been crucially important for the funding and operating costs.