Best-Hall has turned its words into deeds in determining the carbon footprint of its buildings. A calculation of the lifecycle carbon footprint of a warehouse we supplied to a German customer revealed the emissions generated by the building, from the manufacture of raw materials, construction and use all the way to the demolition of the building.
Determining the carbon footprint of buildings is still voluntary, but within a few years it will become mandatory in many countries. In Finland, this is expected to happen in 2025. We at Best-Hall have anticipated the arrival of carbon footprint calculations and had already developed the ability to determine the carbon footprint of our buildings for our customers who are interested in voluntary responsible actions.
We use a piece of calculation software developed to estimate a building's carbon footprint and lifecycle costs. The software is designed especially for the construction industry and includes a huge database on the emission effects of different building materials and forms of energy, among other things. The quantities of raw materials and energy consumption used in the various stages are entered into the software, on the basis of which the software produces a calculation of the building's lifecycle carbon footprint.
Calculation to help with responsibility work
Before Christmas, we provided a German customer with a carbon footprint calculation. The company, which invests in responsibility, wanted a document on the emissions generated by its buildings as part of the carbon footprint monitoring of its own production process. The calculation is also useful for planning energy efficiency.
The calculation shows that the largest emissions generated by the warehouse in question are from the production of raw materials: concrete, steel and PVC cladding. In most cases, the most significant emissions come from the heating of the building during its lifecycle. This cold building had no heating system, so energy was only used for running the air conditioning. Nevertheless, this share was the second highest with a typical building life of 50 years.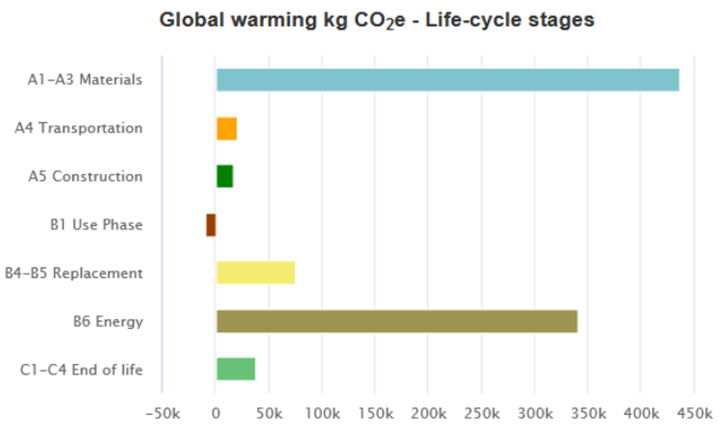 Figure. The calculation shows information such as the generation of carbon dioxide emissions at different stages of the warehouse's lifecycle.
The calculation helps operators make responsible decisions
To make best use of the calculation, it should be carried out at the planning stage. At this stage, the builder is able to use the calculation to choose the best solution in terms of environmental impact and energy efficiency between different materials and forms of energy. It is also possible to include prices in the calculation. This makes it possible to see that options such as thicker insulation or energy-efficient ventilation may actually be more cost-effective when you can see the payback in the form of savings in energy costs.
Best-Hall's goal is to be able to guide the customer towards environmentally sound building solutions. When large storage facilities are required, the combination of a powder-coated steel frame structure and PVC fabric is often the best solution for warehouse construction.